Hartford's Birds – Park Habitat Revitalization and Conservation – City of Hartford, situated mid-state at the confluence of the Park River regional watershed with the Connecticut River, includes historic parkland that serve as essential bird havens for urban-adaptive migratory birds that travel along the Atlantic flyway. City of Hartford is working on pilot projects to develop habitat enhancement maintenance and design practices and public education programs. The Hartford Urban Bird Plant Palette will be discussed and distributed at Spring – Summer 2013 events:
June 1, National Trails Day, Keney Park: Saturday 10 am – 1 pm
July 25, Pope Park Summer Youth Urban Bird Festival
Pope Park: Thursday, 9 am – 1 pm with the 'WOW' Watershed on Wheels
Hear virtue of native plants  discussed in a WHYY Radio Times interview with Douglas Tallamy, Chairman of the Department of Entomology and Wildlife Ecology at the University of Delaware, in Newark, Delaware. Douglas Tallamy, author of "Bringing Nature Home" describes the valuable web of life within urban-suburban backyards, parks and open spaces. Listen to the WHYY Radio Times virtue of native plants podcast to learn more about the movement to enhance native plant ecosystems that are critical habitat to migratory songbirds.
 'Hartford's Birds – Park Habitat Revitalization and Conservation' has three key goals: to enhance habitat; provide the public with information specific to local bird habitat; and to reduce urban migratory bird hazards. Habitat enhancement projects will be implemented around two city park ponds with community groups, Friends Keney Park and Friends of Pope Park. A 'Plant Palette' will be prepared and distributed (print and digital) to educate the community about vegetation that provides habitat for migratory birds traveling through Hartford. Urban conditions hazardous to birds, such as strikes against glass curtain walls, will be studied. Materials and products that can reduce the impact of hazardous conditions will be tested. A memorandum of recommendations will review ways to strengthen existing bird habitat, such as reducing night light pollution. We aim to fulfill the purpose of the US Fish and Wildlife's Urban Bird Treaty Program, which "works with cities and partners to conserve migratory birds through education, hazard reductions, citizen science, conservation actions, and conservation and habitat improvement strategiesin urban/suburban areas"  more about the program is available through this weblink: Urban Conservation Treaty for Migratory Birds.
'Hartford's Birds – Park Habitat Revitalization and Conservation'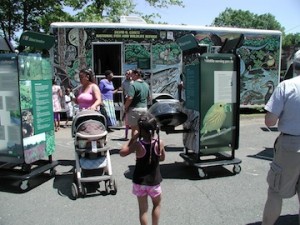 was formally announced on May 19th 2012, at Keney Park Pond. To celebrate Hartford's Urban Bird Treaty, the  WOW Express, was featured at the Ebony Horsewomen Spring Festival. The "WOW" or Watershed on Wheels, is the mobile visitor center of the Silvio O. Conte National Fish and Wildlife Refuge.
The celebration of Hartford's Birds began with a morning bird walk, lead by Dr. Joan Morrison around Keney Park Pond. During the month of May, International Migratory Bird events are happening throughout North America. The 2012 theme is 'Connecting People to Bird Conservation', that is " highlighted in the 2012 art created by Rafael Lopez.  The lively piece reflects the joy, curiosity, and beauty of birds, while sharing the importance of community in bird conservation."
Let us know if you would like to learn more, share your urban bird observations, or participate in the bird habitat enhancement project.