The Park River watershed is full of ever changing stream of environmental adventures, scientific research, art, myths, events and learning activities. Whether a Park or a Hog River, management of natural resources is increasingly dependent upon the civic culture that approves planning policies, which conserve, revitalize or negatively neglect the value of local natural resources.  Here is an incomplete list of other local projects –

Real Hartford – multi-platform social media about the Hartford environs developed by Kerri Ana Provost, RealHartford.org includes a variety of observations about urban rivers and nature in the city. See her recent "Camp Real Hartford: Water, Water"
~~~~
Connecticut Herpetology – A photographic atlas for the identification of Connecticut's amphibians and reptiles developed by Dennis P. Quinn. Dennis is a helpful consultant.
~~~~
City as Living Laboratory — in 2011, Park Watershed partnered with artist Mary Miss to evolve an inclusive initiative, "City as Living Laboratory" which involved an orchestrated walk along the North Branch Park River at the University of Hartford campus, and exhibit at the Joseloff Gallery.  CaLL City as Living Lab, "Sustainability Made Tangible through Arts,"  has continued to grow, in collaboration with a wide range of supportive cultural contexts.
~~~~
Nomad/9 – An interdisciplinary Masters of Fine Art degree program of the  Hartford Art School at the University of Hartford, "dedicated to regenerative culture and radical creativity" through systems thinking.
~~~~
Save Our Water CT  – A citizen action group that formed in opposition to development of a private bottled water facility, by the Niagara Water Bottling Company of California, in Bloomfield. Niagara is seeking discounts on large volume usage of our public water supply.  Save Our Water is actively raising awareness about the privatization of public water supplies by hosting educational programs and protests.
~~~~
From Source to Sea – A 1956 Connecticut River journey from the Canadian border to Long Island Sound increased public awareness of its degraded conditions. Dr. Joseph Davidson and his wife donned gas masks at various locations, met Governors and local officials along the way, and compared a bottle of water from the source to water along the way. This archival footage from Connecticut River Watershed Council (now Connecticut River Conservancy) helped raise public awareness, and improve water quality.
~~~~
Connecticut Explored – formerly the Hog River Journal, good history stories
~~~~
Hartford River Dreams
"NO ONE WANTS TO BE THE RIVER"  – a short microfilm (less than a minute)
will be shown along with two other short films on Friday, Nov. 1, at 7:30 p.m. at The Carriage House Theatre, 360 Farmington Ave. in Hartford. A summary of the project, by Susan Dunne, Oct 23, 2013:  The Hartford Courant
~~~
Sonia Plumb Dance Company
"Water Wars" –  for a beautifully aware performance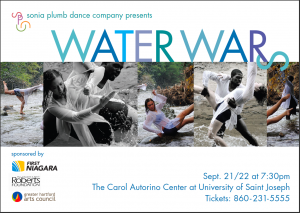 Sonia Plumb Dance Company performed "Water Wars"  Sep 21-22, 2012 at  The Carol Autorino Center at University of St. Joseph – A panel discussion regarding state and local water quality issues followed the dance performance on Saturday evening.

~~~
"Songs Along the Way: Music, Songs and Images from Migratory Bird Species of the Park River Watershed" – A Micro-Exhibit
Connecticut Historical Society
One Elizabeth Street, Hartford, CT
Songs Along the Way is the second installation in the "micro-gallery" at the CHS, created by students in the New Media Collaborative at the University of Hartford, under the direction of Ken Steen, Professor of Composition and Theory at the Hartt School of Music. This "crowd-sourced" sound and image installation features music and sound composed from birdsongs and other sounds and noises collected from the Park River Watershed along with video, photographic images, migration maps, and text. The opening reception will feature live "bird music" in a variety of genres performed at 5:30 by students from the Hartt School of Music. Works by Robert Carl, Claude Debussy, Olivier Messiaen, and Joe Zawinul are planned.
+ Find Park Watershed on Facebook
for updates on the wide range of issues and activities happening throughout the watershed
just for the record, this all began with
Seymour watching the North Park flow by