Numerous Olmsted programs will be hosted locally and national throughout 2022 (and beyond). For current regional and national events, see listings posted to the websites of
National Association for Olmsted Parks: https://olmsted200.org/
and/or the Emerald Necklace Conservancy (Boston metro area): https://olmstednow.org/
Frederick Law Olmsted Presentation: The Connecticut Historical Society will host a presentation on the influences on, and impact of, renowned landscape architect Frederick Law Olmsted. It will be given by historian and filmmaker Laurence Cotton and will be held on Thursday, October 13th from 6p to 7p. Tickets are $5 for CHS members, $10 for non-members, and $8 for seniors. Light refreshments will be provided: https://chs.org/event/flo-lecture/
The Olmsted200 exhibit will be on display again in April 17 -28th 2023 at the concourse (tunnel) between the Connecticut Legislative Office Building, (LOB) and the State Capitol. Distributed by the the National Association for Olmsted Parks to celebrate of Hartford native, Frederick Law Olmsted, this exhibit was curated by Dr. Caroline Mesrobian Hickman of the University of Maryland in conjunction with the Oak Spring Garden Foundation. This excellent exhibit (also available online see https://olmsted200exhibit.com/) summarizes highlights in the history of American landscape architecture, as well as evolution of American municipal, state and national park systems.

Park Watershed and Trinity College arranged for the display within the LOB/Capitol concourse in April 2022 and 2023. A modified version of this exhibit, arranged by Barbara Yeager, with support from the Connecticut Chapter of the American Society of Landscape Architects (ASLA) was on display at the Hartford Public Library History Center (downtown) April 2022. Landscape features unique Connecticut are included as custom panels on display at Hartford Public Library History Center and in concourse between the Ct LOB and State Capitol.
The formation of large scale municipal parks, a century ago, can inspires us today to respond to the climate crisis with a new, 21st century parks movement. As Frederick Law Olmsted was well aware, urban waterways are a convergence of dynamic ecosystem benefits, which offer essential nature-based solutions that if conserved will be an asset to future generations.
Hidden Gems: Revival of the Muddy River within the Emerald Necklace
presentation recorded April 1, 2021
Emerald Necklace Conservancy guest Karen Mauney-Brodek discusses daylighting the Muddy River; and Barbara A. Yaeger of the National Association of Olmsted Parks, who summarizes the celebration of Frederick Law Olmsted's legacy.
The Muddy River segment offers valuable connectivity between parks within Boston's Emerald Necklace. Aspirations of Hartford native, Frederick Law Olmsted, are being fulfilled by the Emerald Necklace Conservancy, which hosts a spectrum of activities along the irregular path of the Muddy River. Revitalization of Boston's Emerald Necklace is rooted in ambitious conservation goals of the late 19th and early 20th century.
Learn about the Olmsted200 national celebration!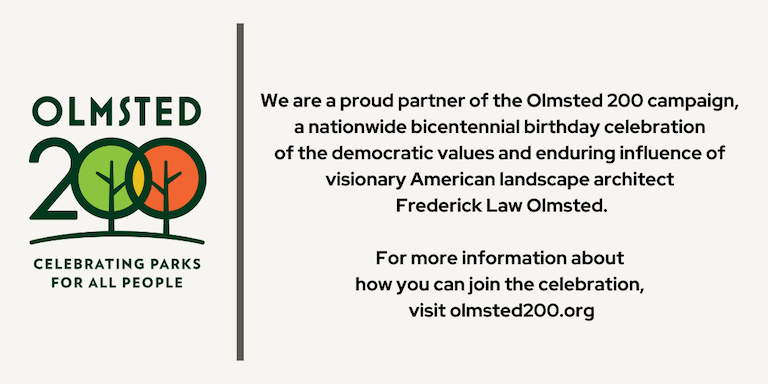 Why now?
See FLONOW.org for Emerald Necklace Conservancy's summary of Olmsted's currency: healing, unity, and empowerment.
Olmsted200 is an expansion of ideas that evolved through our work New England Landscape Futures project. Community appreciation of local nature is needed for spectrum of interests. Waterways in urban-suburban neighborhoods, whether "Hogs" or "Parks" or "Muddy" or a gem within the Emerald Necklace, are a vibrant convergence of water, woodlands, floodplains, and essential habitat and migration corridors for pollinators, migratory birds, and mammals as well as aquatic species, fish, frogs, and turtles.
The New England Landscape Futures project supports future-focused discussions with citizens and professionals who are interested in the relationship between environmental conservation and culture. New England Landscape Futures ("NELF") supported a Park Watershed partnership with Trinity College, Ct River Conservancy and Sustainable CT to explore how urban-suburban riparian corridors offer vital ecosystem service benefits that deserve increased protections. Learn more about this research through the online map:
New England Landscape Futures Explorer
Strategic and comprehensive watershed planning is needed to protect and revitalize riparian corridors along the Lower Connecticut River. Sprawling 20th century planning often overlooked the impact of upstream development on downstream riparian zones. Now is the time to explore how woodland landscape fragments along inland riparian corridors offer aquatic arteries of ecosystem connectivity and community resilience. Contiguous forests, wetlands, and floodplains along waterways serve as essential wildlife and bird habitat and migratory pathways, and also provide valuable green infrastructure ecosystem services that benefit public health and mitigate damage from unpredictable precipitation.
For more information contact: MaryP (insert "at" symbol) parkwatershed.org
our project partners:
Ct River Conservancy, Lower River Steward, Kelsey Wentling
SustainableCT, Alyssa Norwood, Program Manager, Certification & Innovation
Trinity College, Dr. Susan Masino, Vernon Roosa Professor of Applied Science