The North Park Environmental Activities Survey for School Teachers has been posted online. Input from educators is essential to improving natural outdoor classroom landscapes. Please click here to take the survey if you are a teacher.
This survey is especially intended for educators working in schools located within the Park River regional watershed, which stretches east from the Metacomet Ridge to the Connecticut River. Schools in Bloomfield, West Hartford, Hartford, are included as well as parts of New Britain, Newington and eastern Farmington. However, we welcome input from others.
~~~
We are busy working on a number of projects, including implementation of the North Branch Park River Watershed Management Plan. Please feel welcome to contact Park Watershed, Inc. if you have questions or would like to host a group presentation or participate in a field project.
~~~
US EPA Urban Waters Voices has included Park Watershed along with twelve other urban water revitalization projects across the nation.  The Park Watershed video story is a mosaic of the many different tributaries of the Park River regional watershed.
~~~
Urban Bird Treaty project work featured in
Hartford Courant, CT NOW Section, Sunday, December 2, 2012
and Trinity College November 19th news
~~~
Trout Brook  Source-to-Sea Cleanup with Whole Foods
Saturday, September 29th  Thanks to the Whole Foods team + volunteers
This Source-to-Sea Cleanup was part of the annual
Connecticut River Watershed Council Source-to-Sea Cleanup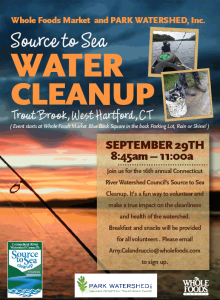 ~~~
U.S. EPA Office of Water Campus RainWorks Challenge  – Undergraduate and graduate student teams are invited to create an innovative green infrastructure design for a site on their campus showing how managing stormwater at its source can benefit the campus community and the environment. The winning projects are posted the EPA website.